We are doubling down on our efforts to demand dignity and justice for all people. We'll continue to work towards ending the crippling inequalities and injustices – economic, social, gender-based, environmental, and more – that both enable and exacerbate global crises like COVID-19. This is just what we need to protect each other during this crisis. Check out our resources below:
Take Action
As the coronavirus spreads, communities facing poverty and injustice are again on the frontlines of crisis. Building on decades of local partnerships, our global response includes the distribution of hygiene kits, public health education, and advocacy for public services.
For so many communities already facing hunger or poverty, the coronavirus will be devastating. Now is the time to show the strength of our community. Your gift helps us respond to this crisis and support human rights around the world.
Donate now to support communities on the frontline of the crisis.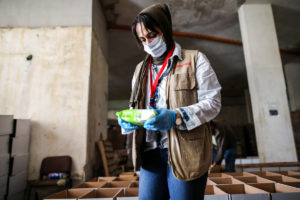 So far, over 1,000 people have pledged over $3 million through the #ShareMyCheck initiative. Together we're moving money to support mutual aid efforts in our own communities, grassroots social movement building across the country, and communities on the frontline of the pandemic around the world. As the U.S. government continues its "America First" ideology by halting funds to the World Health Organization, we as people must step up for global coronavirus response.
Join the movement: pledge your COVID-19 stimulus check to where it's needed most.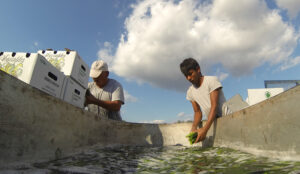 We've seen the numbers. More than 48 million people in the U.S. are essential workers, and women, particularly women of color, hold more than half of all essential jobs. These workers, including farmers, farmworkers, social workers, healthcare workers, delivery drivers, and government employees, are putting their health on the line every day as the pandemic throws us deeper into crisis.
As some states start to reopen despite warnings from public health experts, and as the number of confirmed coronavirus cases in the country surpasses 1 million, we need to make it clear to our elected officials that supporting essential workers is not optional. This means paid sick leave, workplace health standards, childcare support, collective bargaining protections, and holding employers accountable for meeting safety guidelines.
Sign the petition: we want an Essential Worker Bill of Rights now!
Combatting coronavirus through community-led response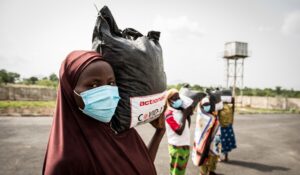 Building on decades of collaboration with local communities, our staff and partners around the world have launched emergency responses in over 40 countries to prevent illness, provide vital supplies, and fight for human rights in the midst of the coronavirus pandemic.
Like all emergencies and humanitarian crises, the coronavirus pandemic is affecting women and the most marginalized (including homeless populations, informal workers, migrant laborers, and survivors of violence) first and hardest. Disasters, crises, and conflicts increase the likelihood of human rights violations, and women are often excluded from decision-making and denied access to resources during these times. That is why women's leadership is at the heart of our humanitarian response.
Blogs

I have just returned from my family's farm in Pennsylvania, where I was helping my retired parents avoid exposure to coronavirus. It's impossible to go back to business-as-usual when we consider how this pandemic will affect the whole world and how we don't yet understand its extent or which countries will be most affected. But we can be sure that the effects won't be limited to the disease itself. Food systems around the world will be disrupted, and this will primarily affect people with the least ability to buy or produce their own food.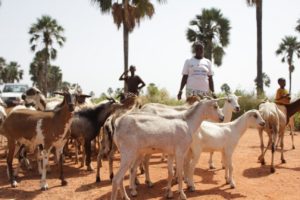 The coronavirus is not just a health crisis. The effects of the pandemic are already being felt along food supply chains, and we will soon start to see its impacts on the agricultural sector both in the United States and especially in developing countries.
In this current crisis, people on the frontlines of poverty and injustice will suffer the most. Among them are smallholder farmers and agricultural workers, who harvest and transport the food we eat every day. Governments must take urgent measures to support small-scale farmers not only with social protection programs, which are important, but also with structural solutions that will ensure long-term food and economic security.
Coronavirus didn't break the U.S. meat supply chain, the big companies did. When it comes to meat, a few companies like Smithfield, Tysons, JBS, and the big box retailers have bound farmers, workers, and consumers in long food chains where the benefits flow to the top. Trump's executive order that slaughterhouses must stay open in spite of the thousands of workers who are ill, and the scores who are already dead, will certainly not fix the problem. It will make it worse.
Our Global Response

As the coronavirus spreads, communities facing poverty and injustice are again on the frontlines of crisis. Many are already dealing with humanitarian emergencies – such as climate-related disasters, refugee crises and conflict, and food shortages – and are now potentially facing a mass outbreak of the virus like we've seen in other parts of the world.
As we learn more and more about the far-reaching effects of this virus, we are doubling down on our efforts to respond quickly. Building on decades of collaboration with local communities, ActionAid's staff and partners around the world are launching emergency response to prevent illness, provide vital supplies, and fight for human rights in the midst of this pandemic.
Learn more about our response in different countries.
Our Statement
ActionAid USA recognizes the difficulties that the COVID-19 pandemic is presenting to our supporters and people everywhere, especially those already vulnerable or marginalized. We are taking steps to ensure the safety of our staff while continuing to work in solidarity with communities on the frontlines of poverty and injustice.
We recognize that people around the world are vulnerable to both COVID-19 and the economic impacts of countries' attempts to slow or mitigate the spread of the virus. We are coordinating closely with ActionAid offices around the world as they continue to work and support public health in their communities. Our core work on policies around food security, climate justice, land rights and more, is moving forward.