As cases of coronavirus continue to increase globally, we are doubling down on our efforts to demand dignity and justice for all people on the frontlines of poverty and injustice. Building on decades of collaboration with local communities, our staff and partners around the world are sharing essential health information with vulnerable communities and providing vital supplies through our women-led response.

Like all emergencies and humanitarian crises, the coronavirus pandemic is affecting women and the most marginalized (including homeless populations, informal workers, migrant laborers, and survivors of violence) first and hardest. Disasters, crises, and conflicts increase the likelihood of human rights violations, and women are often excluded from decision-making and denied access to resources during these times. That is why women's leadership is at the heart of our humanitarian response.
Grounded in ongoing efforts to build communities' resilience and sustain change, our humanitarian signature centers on three priorities:
Staying accountable to affected communities
Shifting power towards local leadership
Recognizing the leadership of women and their collective action as part of humanitarian action.
This framework paves the way for the transition from response to recovery, addressing underlying inequalities and building the foundation for long-term and transformational change.
In the current coronavirus crisis, we are ensuring that our response in over 40 countries promotes, enables, and supports the role, agency, and leadership of the women leading response and those receiving support.
Women's leadership
By supporting women to lead crisis prevention and response, we can reach the most isolated communities. Women, their organizations, and their community groups know their contexts better than anyone. They also understand the risks women are now facing from isolation, increased burdens of care work, and the closures of schools and workplaces because of coronavirus. When women lead, they create space for other women to lead and bring us all closer to gender and social justice. We are seeing this play out before our eyes as long-standing partnerships with women's groups are making our global coronavirus response possible.
Bangladesh:
Sharmin is a case management officer for ActionAid in the Rohingya refugee camps in Cox's Bazar, Bangladesh. For three years, she has supported Rohingya women and girls who fled mass violence in Myanmar in 2017. As lockdown measures have heightened tensions within families, her work has become that much more important.
"Gender-based violence has massively increased. People need mental support. The women in particular need it. This is because husbands are at home in a small space with the children. The children might be searching for food or requesting snacks from their father. Or the wife might be telling the husband we need this or that. Then the husband, who doesn't have an income anymore, will feel frustrated. This is one of the reasons violence has increased."
Sharmin runs one of ActionAid's Women Friendly Spaces in the camps and has been teaching women about physical distancing and best practices for health and hygiene. These women then share this knowledge with the wider community. As the first cases have now been confirmed in the camp, we are taking precautionary measures now as the virus could spread very quickly because of the cramped living conditions.
India:
ActionAid's Gauravi One-Stop Crisis Centre for sexual and domestic violence survivors in Bhopal, India, has become a hub for our coronavirus response. In response to the pandemic, the Gauravi Centre opened a community kitchen and is delivering food and sanitation kits to marginalized groups – all while continuing its helpline for domestic violence survivors.
Rickshaw driver Talat is one of 12 drivers working with the Gauravi Centre to deliver 5,000 to 7,000 food packets per day to vulnerable members of the community, including survivors of violence, transgender people, Muslim minorities, migrant laborers, and people who are homeless. A survivor of domestic abuse, Talat learned to drive a rickshaw through a rehabilitation program at the Gauravi Centre. There, she also received medical treatment, legal aid, and counseling – all under one roof. This program has not only provided Talat with an opportunity to earn a living but also equipped her with skills she is now using to support ActionAid's coronavirus response.
Laxmi is another member of the community who is playing a vital role in ActionAid's emergency response in Bhopal. Through the Gauravi Centre's free rickshaw training and loan support, Laxmi bought her own electric rickshaw. Now she transports staff members and volunteers to the Gauravi Centre since they have no other way of commuting due to lockdown measures. She told us she is pleased to volunteer her driving skills and shares the coronavirus health guidance she learns from the Gauravi Centre with her community.
Vanuatu:
Women leaders from the indigenous Women I Tok Tok Tugeta network have been driving the response in Vanuatu. Back in March, we supported them to attend a training with the World Health Organization and the Vanuatu Ministry of Health on managing local coronavirus response. Now, these women are sharing their knowledge with their communities through texting campaigns on best practices to curb the virus and by community demonstrations on proper handwashing, coughing and sneezing techniques, and safe sanitation practices. The women have reached 183 households and 915 people across Eton.
"We are really pleased with how many people we've been able to reach so far. The more people we can talk to and share the knowledge with, the more likely we will be able to prevent any spread of this virus." – Flora Vano, Country Program Manager, ActionAid in Vanuatu
Health, hygiene, prevention
While we tailor our response to each context we work in, our top priorities include stopping the spread of coronavirus and making sure communities have the resources they need to stay healthy.
Cambodia:
Our colleagues in Cambodia have been working with partners and women leaders from previous disaster management projects to raise awareness about the coronavirus in rural areas. They have provided key messages on prevention in 97 villages using loudspeakers and posters and distributed soap to almost 5,000 families.
They are also calling on the government to scale up screening and treatment and to conduct a rapid assessment of how the crisis is impacting the food security of the most vulnerable people.
Ghana: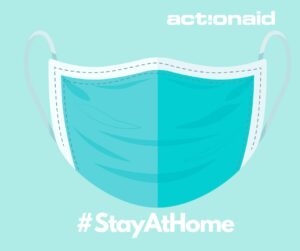 Efforts in Ghana have focused on encouraging people to stay at home, practice physical distancing, and generally adhere to safety precautions issued by the World Health Organization and the Ghana Health Service. Staff and local partners have been working to raise awareness through social media campaigns and videos. In partnership with the Northern Regional Deaf Association, our youth partners from Activista Ghana created this short video in sign language highlighting key precautionary measures.
Nigeria:
ActionAid in Nigeria has been successful in engaging with remote communities through social media and community facilitators.
We are also working with community facilitators to train women on making soap and antiseptics. Sadiya Usman has since become a community facilitator as her business was hit hard by the pandemic. Although there is no stay-at-home order in her community, the markets where she usually buys her raw materials for her liquid soaps, antiseptics, and beauty products are in communities with stay-at-home orders. She tells us:
"At the moment, I am not confident of how my business will thrive going forward as most of my sales now go to feeding my family. My husband, a civil servant, has not been paid his salary. Before, I was able to sell at a gain, support my family, and reinvest in my business to expand it, but that is not possible now."
Despite the setback, Sadiya has found power in working with other women to contain the spread of the coronavirus in their community. She is currently training 19 women to produce liquid soap and antiseptics to use and to sell, while of course maintaining social distancing and promoting hygiene.
Livelihoods and access to basic needs
While one of our highest priorities is to stop the spread of coronavirus, we also know that communities are struggling to access food and necessary hygiene supplies to stay healthy during stay-at-home orders. Through our existing partnerships, we are distributing food supplies and hygiene kits to communities.
Nepal:
Since Nepal locked down in April, daily wage workers and the most vulnerable families are facing serious challenges to meet basic needs. Our staff and local partners have successfully delivered basic food items and hygiene kits to more than 2,000 households.
Anjana and her family were one of the first to receive basic food items and prevention kits from ActionAid in Nepal. Both she and her husband have been out of work since stay-at-home measures were put in place. She tells us:
"Our savings were almost used up within the first two weeks of lockdown. There has been an increase in daily food requirements since everyone is staying home and we do not have work. If ActionAid had not provided relief, I [wouldn't] have any options to feed my children."
Palestine:
In Palestine, we are working with our network of young activists to address basic needs and provide psychological support to communities in the West Bank. These volunteers initially responded by providing 300 hygiene kits to families under quarantine, followed by a distribution of food supplies to 200 more families headed by women, primarily gender-based violence survivors.
We also worked with volunteers to support women to protect themselves and their families during this time. With local partners we have been providing 75 women with online trainings on how to deal with family-related stress and, for mothers, how to support their children psychologically. These women are also promoting a free helpline that supports Palestinian women, children, and refugees and raises awareness about the coronavirus. They are currently working from their homes due to travel restrictions and home isolation but continue to operate 24/7. These support systems are imperative at a time when overloaded health systems increase women's burden to care for those who are sick.
Youth action
During this pandemic, young people have also been frontline fighters. Through their initiatives with our global youth network, Activista, they have been demonstrating resilience, courage, and a strong sense of accountability to their communities.
Bangladesh:
At the local and national levels, Activista members in Bangladesh have been working hard to prevent the spread of coronavirus by raising awareness and coordinating emergency responses. Their advocacy campaigns feature graphics and flyers that highlight government hotlines, psychological support lines, and best health and hygiene practices recommended by the World Health Organization.
As communities often receive false information about coronavirus through various media, they are also using platforms like Facebook, WhatsApp, and even SMS to disseminate accurate health information. These digital awareness campaigns have been successful in reaching other young people and remote communities.
Activista members are also mobilizing responses in various communities. In Chattogram, they are coordinating with partner organizations to distribute rice, pulses, oils, potatoes, onions and other items. In Chilahati, they have been working with local authorities to set up hand washing stations, mark circles on the ground to ensure adequate physical distancing in local markets and grocery stores, and regularly disinfect mosques, markets, and community clinics. In Satkhira, they have been mobilizing resources to create their own low-cost masks that are being distributed to marginalized communities.
Senegal:
Activista teams in Senegal have been reinforcing hygiene measures by distributing health information and educating community members on recommended health and hygiene practices. They also worked with partners to distribute 5,000 hygiene kits to 183 communities, reaching more than 70,000 people across the nine areas in Senegal where ActionAid works.