The financial firm TIAA (Teacher's Insurance and Annuity Association) is one of the largest financial companies in the U.S. – managing almost $1 trillion in retirement assets for almost 5 million college, university, and non-profit workers – and claims a reputation for social responsibility. Yet it is buying farmland in places like Brazil where land grabbing and fraud are widespread, and in the U.S. where family farmers, farmers of color, and young and beginning farmers are being wiped out by corporate agribusiness. These land deals are destroying the environment and displacing rural and indigenous communities.
Since 2016, ActionAid has joined with Rede Social, Grain, National Family Farm Coalition, Uprooted and Rising, Friends of the Earth US, Maryknoll, Presbyterian Hunger Program, Grassroots International, Family Farm Defenders and others to form the Stop Land Grabs campaign to fight these corporate land grabs. Our campaign is exposing the role of the financial services sector and higher education institutions in driving land grabs and environmental destruction across the United States and the world.
The Stop Land Grabs Campaign is also mobilizing faculty, staff, and students on campuses across the United States to demand that their institutions stop taking land away from local farmers and communities, and to publish the boundaries and detail the practices on their current land holdings.
The true cost of TIAA's farmland deals
With 2 million acres in Brazil, the United States, and Australia, TIAA's farmland holdings are worth almost $8 billion. Its activities are contributing to and benefiting from the dispossession of local communities and increasing hunger and violence. In many communities, TIAA's presence alone is driving up land prices and making it that much harder for family farmers to hold onto their land. Furthermore, TIAA's farmland deals come at a heavy ecological cost.
The Stop Land Grabs campaign has brought these issues to TIAA's attention on numerous occasions. Most recently, ActionAid supported Brazilian land rights defender Altamiran Lopes Ribeiro to visit the United States for a speaking tour and to build public support for the campaign. Altamiran joined ActionAid to deliver a petition of more than 38,000 signatures to TIAA's Washington, D.C. office, urging the company to stop buying up farmland in Brazil.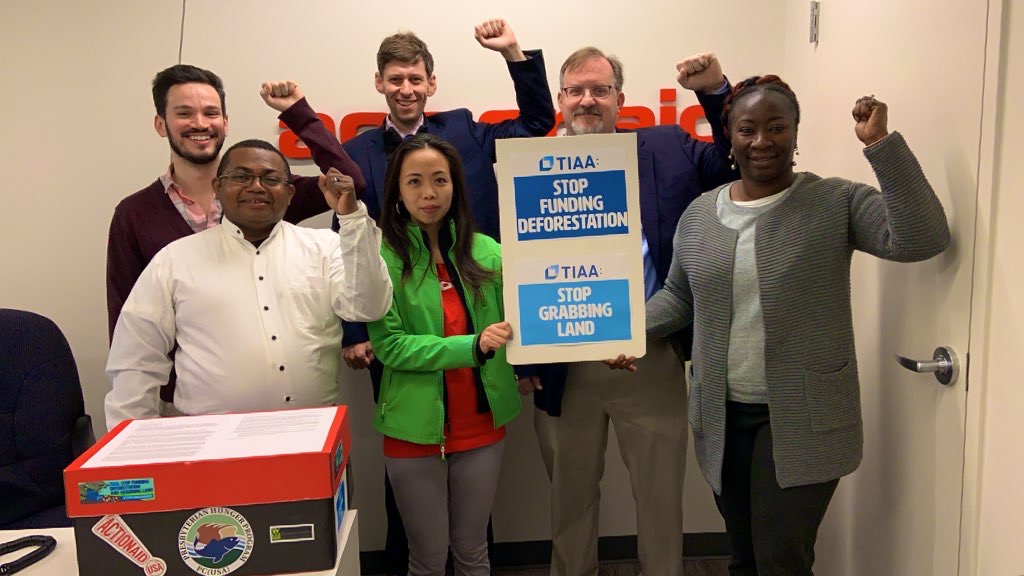 We also supported Altamiran and a group of local communities to file a complaint with the World Bank's Inspection Panel. The complaint stated that the World Bank's land regularization project was making it possible for land grabbers to legalize the lands they had taken and was failing to prioritize the land rights of communities who had long used the lands collectively. We met with the Inspection Panel twice during 2020 and by the second meeting, 13 communities in Piaui state reported that World Bank staff and state officials were advancing recognition of their land rights. This was a big win!
Most recently, Brejeira Salto, a community whose land rights were threatened by a large soybean company, SLC Agricola (the largest company farming for TIAA in Brazil), became the first of the communities to receive full recognition of their land rights, while titles for the others remain in process. This is progress, but the land rights of hundreds of additional communities are still under threat. ActionAid will keep pressuring governments and international institutions to recognize these land rights and insist that agribusiness halt deforestation and expansion in the Brazilian savannah region known as the Cerrado.
Why should TIAA get out of farmland?
TIAA is buying farms linked to land grabbing, fraud, deforestation, and human rights abuses.
In Brazil, TIAA has been linked to two known land-grabbers. One is businessman Euclides de Carli, who was considered the "largest land grabber" in the region (he died in 2019). From 2010-2012, TIAA bought 6 farms totaling 56,000 acres from companies connected to him. However, in 2016, a local judge revoked the fraudulent titles of 15 farms owned by Euclides de Carli totaling over 300,000 acres. While TIAA's farms were not included in this judgment, they are potentially a risk of future judgments. TIAA also had business dealings with agribusiness company SLC Agricola, one of the biggest soybean producers in Brazil, which has been accused of a massive corruption scheme to bribe judges into giving the company fraudulent land titles. The case is currently under investigation.
TIAA has bought all of its land using a complex web of shell companies it created to evade a Brazilian law limiting foreign ownership of farmland and is now under investigation by the Brazilian government.
People living next to these farms can no longer use the land to grow food, and they're reporting threats of violence from security companies, as well as polluted water and poverty.
In other regions where TIAA is buying farmland, systemic corruption and fraudulent land titles put TIAA and other funds at risk of losing their assets.
TIAA is contributing to deforestation and environmental destruction.
TIAA's farms are all part of an environmentally destructive model of agriculture. Almost all of the farms are big, chemical-intensive plantations that produce one crop. This model fuels hunger and climate change.
Satellite maps show that trees were getting cut down on TIAA's land in the Cerrado region, either immediately before or after they bought it. The Cerrado is considered one of the most biodiverse regions in the world, and it is quickly being destroyed to make way for new soybean plantations.
TIAA is violating their own principles for social responsibility.
TIAA claims to conduct due diligence, be sustainable, avoid deforestation, and respect human rights. Yet the company's actions directly contradict these claims: buying farmland from known land grabbers, contributing to deforestation, and owning farms that pollute local communities.
TIAA is speculating on the price of farmland and hurting family farmers everywhere.
TIAA is buying farmland because it expects the price of that land to increase significantly over the next 10 to 20 years. The problem is, speculating on farmland drives up the price of land. This makes it very difficult for family farmers to access land in countries like the U.S.
Speculation potentially creates a bubble in rural land markets, leading to the possibility that these assets are dangerously overvalued. It also props up systemic fraud seen in areas of Brazil and elsewhere.
TIAA is profiting from the theft of farmland from people of color in the U.S. and making it harder for them to reclaim land that once belonged to their family.
TIAA is buying farmland in the Mississippi Delta region, a key region for farmland speculators, and also where millions of acres of Black farmland were stolen through fraud and corruption several generations ago. Today, TIAA owns over 80,000 acres of prime farmland in predominantly black counties in Mississippi with high rates of poverty.
Though TIAA is accumulating land decades after most Black farmland was stolen, Black farmers still routinely face discrimination when they try to get a loan or access credit, and Black farmers are still losing their land to corruption between local banks and powerful landowners.
TIAA refuses to take meaningful action and points to their reputation for social responsibility, a claim that the Stop Land Grabs campaign rejects given the company's involvement with land grabs. TIAA's leadership must be held accountable for funding land grabs and respect human rights.
What does TIAA need to do?
Speculation on farmland harms rural communities and family farmers. It fuels deforestation and destructive models of agriculture. We need to pressure TIAA to stop buying up farmland now and repair the damage it has caused.
These are our demands:
Immediately stop the purchase of farmland in Brazil, the United States, and globally, and return lands already acquired to communities in Brazil.
Meet the demands of community leadership to repair the damage caused by TIAA's farmland deals to date, including immediately stopping deforestation and the use of chemical pesticides.
Publicize TIAA's response to all of its clients.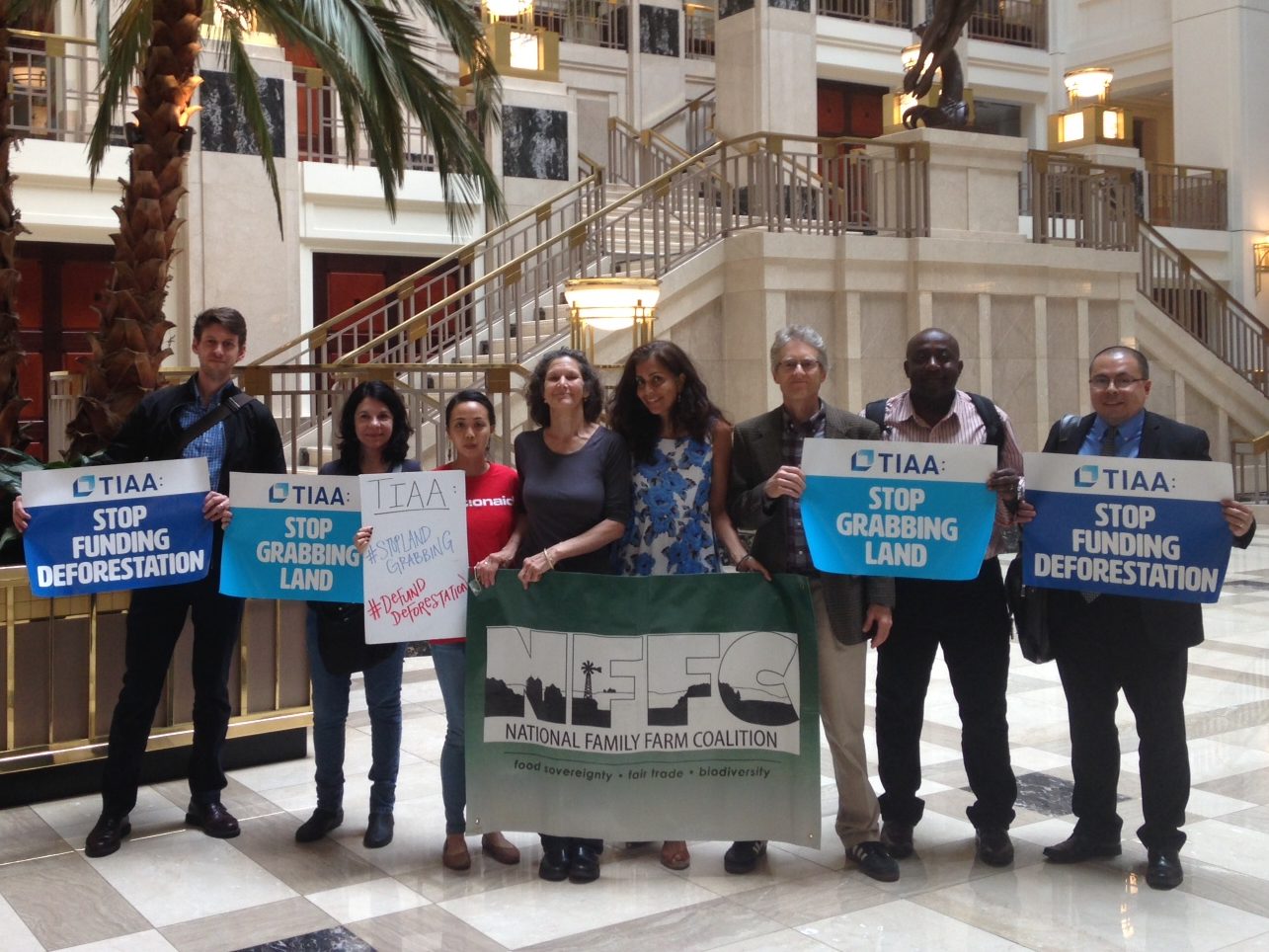 Campaign milestones
Since launching in 2016, the campaign has celebrated several wins:  
We recruited over 150,000 people to sign our petition.
We reached tens of thousands more through media coverage in The Atlantic and other publications.&
We pushed TIAA to implement new policies on transparency, sustainability, and deforestation.
We organized statements and resolutions of support from the American Federation of Teachers, the University of Wisconsin, the University of Iowa, and other institutions.
We met with policymakers to provide input on potential legislation that not only could stop land grabbing in countries like Brazil but could also protect family farmers, workers, and rural communities& across the United States.
Take action with us!
Faculty and staff at colleges and universities across the country are launching their own campaigns to hold TIAA accountable and keep workers' retirements out of farms and forests. Join us!
If you are a student, staff, or faculty member at a college or university: Download our action toolkit and begin organizing today!
If you haven't already: Sign our petition to TIAA's Board of Trustees and tell them to get to the bottom of the company's ties to land grabbing and deforestation.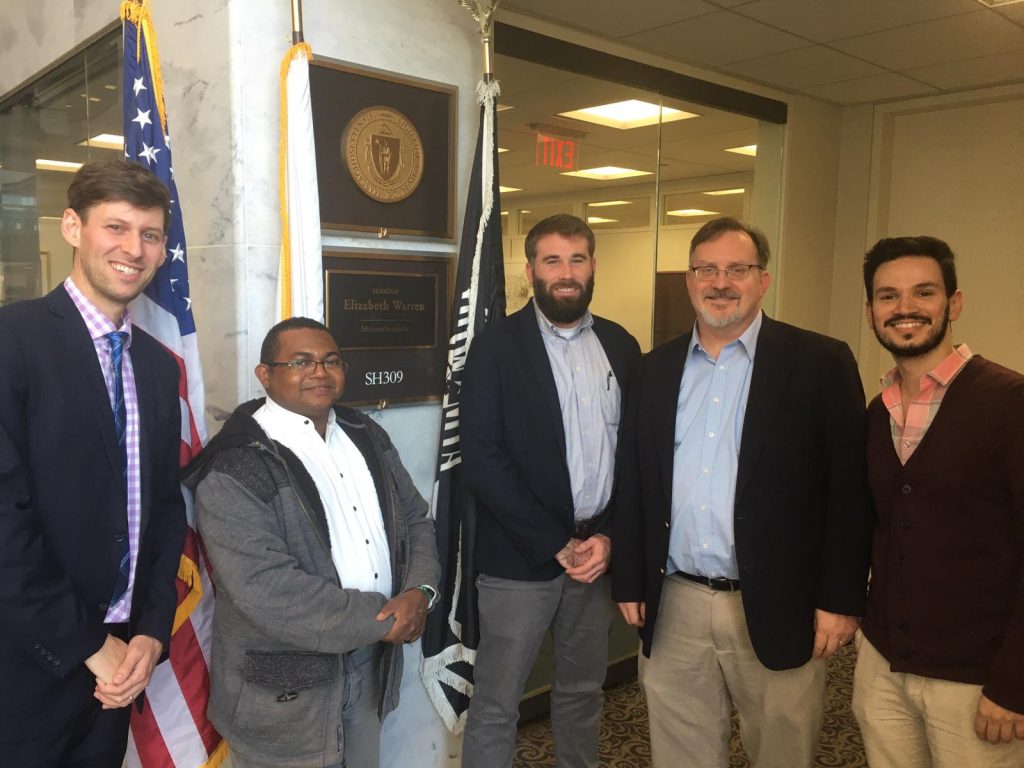 Resources