"Whatever impacts the world will impact us as well. I am worried about not being able to get water, or food even. Anything can happen…" – Maryan, farmer in Ceel-Giniseed, Somaliland.
What has caused the food crisis in East Africa?
The food crisis in East Africa has been caused by multiple factors: economic uncertainty, climate change, and the war on Ukraine. Energy and food prices doubled and even quadrupled in some cases, severely limiting access to basic necessities. And to make matters worse, rainfall has been less than average during expected monsoons, which has caused a drought and displaced many communities across the region.
On the brink of Famine
While there is no famine in East Africa yet, the current level of hunger suggests that the region is teetering on the brink of one. If adequate rainfall does not occur soon and nothing is done to address the failing food systems, a famine will occur.
Stories from frontlines: Somaliland
Somaliland is facing one of its most difficult food crises caused by four cycles of poor rain, locust invasion, the effects of COVID-19 and the war on Ukraine. The food crisis results from worsening droughts in the area which have ensued a large-scale loss of crops and livestock, extensive water shortage, poor quality of life, and major risks to the health of indigenous communities. Because of this, women in certain communities face daily uncertainties on how to feed their families and worry about the future of their communities if the drought worsens. Below are the experiences of some ‌women from these communities.
Maryan's story
Maryan, a mother of 6, belongs to the Ceel-Giniseed community. In Ceel-Giniseed, the land and the livestock act as a primary source of food and income. However, the drought has resulted in a destruction of both, and due to the rising temperatures and lack of rain which has made the environment completely uninhabitable for goats, camels, and cows, and to a large extent, the people too.
"The drought has had a severe impact on me and my family. You can see my farm. Do you see any good trees except that lemon tree? These trees were beautiful before the drought and water shortage, and this land was full of newly planted trees, but we stopped now, because if we plant new trees, they will wither, like that lemon tree has."  

"Whatever food we consume here in Somaliland is made outside, such as rice, pasta or oil. Nothing that we consume is made in our country, and everything has changed. We purchase everything from the rest of the world. I am a farmer, but what is grown on my farm that I can consume?"
Most families in Ceel-Giniseed have been forced to leave their land. However, because the drought has stretched to almost every corner of the East, families still face drought despite traveling miles to find a new home.
Read more about how the drought is impacting the community here.
Ayeen's story
17-year old Ayeen, a migrant who lives in the migrant community just outside Ceel-Giniseed, has raised concerns about the safety of women in her community.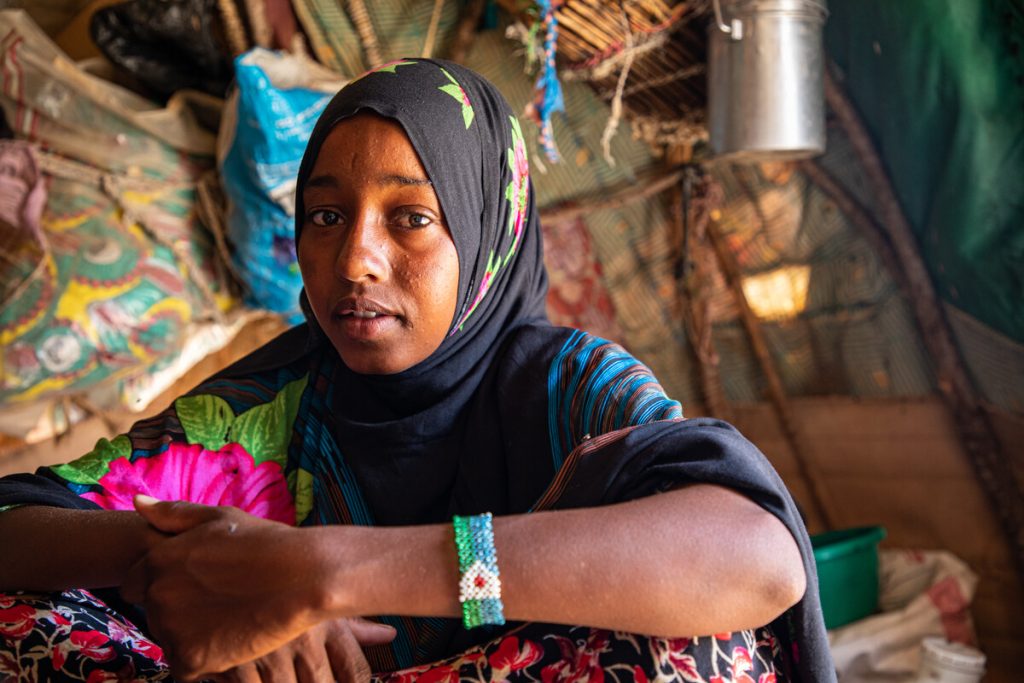 "It was a very tough situation, moving from our original home to this place. It took four or five nights. After we arrived here, we [still] face drought."  

"It is really tough on women. When we are alone, we fear being eaten by hyenas or even killed by other people, but we stay strong…"  
Some women tend to live alone, or with their children, because their husbands often go out to look for new homes, and their return is undecided. This only adds more pressure on women to look after their children, their safety, and maintain the health of their community.
Aisha's story
Aisha, another migrant living in Ceel-Giniseed, shared with us that she had to sell off 100 heads of her livestock to provide for her children after her husband's death. The journey to Giniseed was difficult as she fell and injured her hand. Aisha cannot see through one of her eyes and lives with constant pain in that area of her head. She shared: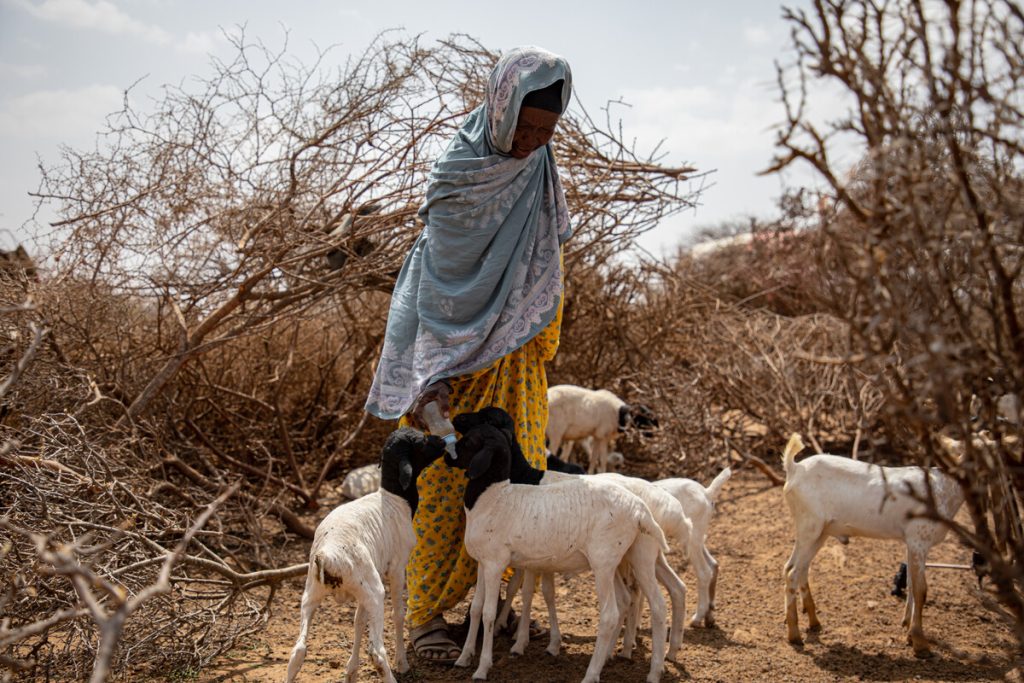 "I was their mother and father. I used to take care of [my children] by selling some of our livestock, it was enough to cover our needs. [But] now livestock is not bought because it's so thin. Now we don't have any milk to whiten our tea, only we get small milk from some goats."

"You will feel pain, thirsty and headache when there is no water. These people need urgent nutritious food. We have water, but only we are missing [fodder] and food."
Learn more about how you can support migrants impacted by the current drought here.
Saafi's story
Saafi lives in the Giro-Sumo Internally Displaced Persons (IDP) camp with her young daughter. She migrated from her original home in search of clean water. Just like Ceel Giniseed, families in the Giro-Sumo IDP camp have been forced to leave their homes due to unfavorable conditions.
"When I was young the situation was not like this. Even the environment was so rich, people had a lot of animals at that time. That time there was support from neighbors, the relationship was good. Now all those things have stopped."
"The situation is so harsh right now. Last night, I went to another neighborhood for support but everyone is the same as me, all this population doesn't have anything. The biggest needs are food and shelter. This is what we are facing as a community. Supporting us with small businesses for the future [is important for the long-term], but [right] now we need things for survival."  
Saafi used to make a living through her butchery business. However, her diabetes and other hereditary diseases have forced her to discontinue her business. She believes that the first step to improving the situation is by supporting the community's health, providing necessities such as food and water, and later focusing on rebuilding their economy. 
Amina's story
Amina Yusuf is a 90-year-old woman who lives in the Xidhinta community. Although she has experienced 12 droughts in her lifetime, she says that the current situation in Somaliland has been the worst experience of her life. 
Members of the Xidhinta community are facing a massive water shortage. They can no longer farm, and cannot herd and milk their cows as they have become weak. This cuts off their primary source of income. The rise in fuel prices has also worsened the situation.
"It used to be [better] in the past, but now the world is ending."   

"It is not only us who have this problem but also other people. For me, some water is still in my berked (well). It does get empty but now the reason it is not empty is because the people who would have emptied it are no longer here, [they are looking for water] elsewhere. [But] now we do not have the food we used to eat. We are starving."
Years ago, life in Xidhinta was different. The land was not excavated and the pastures and trees were flourishing. Now, many guard their livestock and restrict others from accessing their farms because of the scarcity of resources. While communities are forced to be self-sufficient, they are not able to provide for themselves. Therefore, they lose out in every way.
Read more about how the drought is impacting the community here.
What is ActionAid doing to help?
ActionAid has made consistent efforts to provide a constant flow of cash transfers so that people can start their own businesses to build a living and support their community.
The farming and infrastructure supported by ActionAid is helping Ceel-Giniseed slowly return to its original, green and fertile state.
In Ceel-Giniseed, ActionAid has installed a generator to pump water from the shallow wells into pipes that irrigate the farms and distribute water to the community and livestock.
In 2014, ActionAid founded a women's group in Xidhinta. The main group of 60 women is further divided into subgroups who act as the decision-makers of the community. These women have shared that the group has helped them connect deeply with others and given them a sense of solidarity. It has also helped them communicate more effectively about problems within the community. Moreover, it has strengthened their connection with the wider community, which enables them to access more information about what is happening across the country.
ActionAid has constructed one big berked (well) and smaller wells throughout Xidhinta to help members survive the drought.
In Xidhinta, ActionAid has trained the women's group on networking, management and collaboration, helping it develop further.