Severe drought, chronic water shortages, and now rising food and energy prices due to the war on Ukraine, are pushing families to the brink of survival
Ninety-year-old Amina Yusuf Cige, who lives in the village of Xidhinta in Somaliland, has survived 12 droughts but says the current situation is the worst she's experienced in her lifetime.
"The drought has hit us hard. We have no water. Fuel is very expensive. We used to eat sorghum, rice, pasta and macaroni. But now we do not have the money to buy these foods. We are starving," she said.
"It used to be nice in the past, but now the world is ending."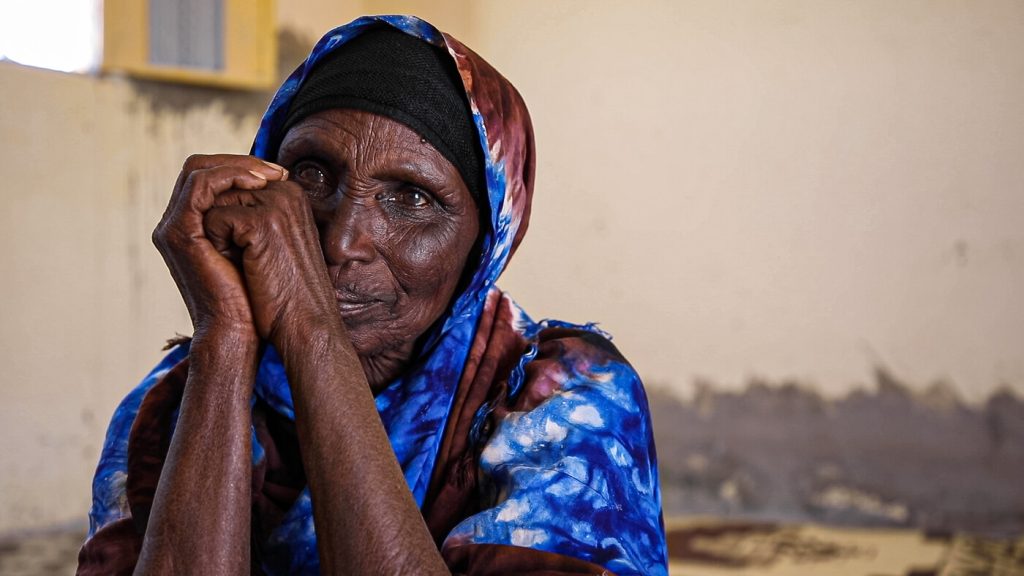 The Horn of Africa is facing one of the worst droughts on record with some 14 million people in Ethiopia, Kenya and Somalia facing severe hunger and water shortages.
Global food prices had already reached record highs when the war on Ukraine began, due to the impact of the Covid-19 pandemic, climate disasters and rising energy costs.
When ActionAid visited communities affected by the drought in Somaliland, a semi-autonomous region in Somalia, earlier this month, people reported soaring food and fuel prices since the Russian invasion on 24 February.
Drought, displacement, and rising hunger are putting women and girls at increased risk of gender-based violence.
Hibo Aden, women's rights officer at ActionAid Somaliland, said the situation has become so desperate for some families that girls are being forced to marry in exchange for food and water.
"Last month, the government did an assessment about how the drought-affected women and children. They found that cases of gender-based violence had increased 24%, especially when it comes to domestic violence, forced marriage, and girls dropping out of education," she said.
Countries in Africa and the Middle East are major trading partners with Russia and Ukraine, particularly for supplies of wheat, sunflower oil, and fertilizer.
Ms. Aden said that Somaliland's dependency on imports for products like spaghetti, flour and rice, makes it susceptible to shocks in the global food market.
Amina Ibrahim Ege, 80, from rural Ceel-Giniseed village in Gabiley district, said: "The crisis outside Somaliland is reaching here."
She explained how 25kg of rice has risen 50% from $20 to around $30 over the past month, while petrol has soared from $12 to around $30 for five liters.
It hasn't rained in Somaliland since last April. Amina Jama Ismail, 40, who lives in Xidhinta village with her eight children, said: "Previously there was plenty of rain and water, but now the climate has changed. Every time spring is expected, a drought will replace it."
She said food and water were the most urgent needs, as people are forced to skip meals and go thirsty, adding: "There are many people who can't cook tonight and many others who can't get water, because water sources are far from them."
Sagal Mohamed Shaheed, 40, is a mother-of-two who lives in the Giro-Sumo displacement camp. She is eight months pregnant with her third child.
Her family were forced to leave their village after they lost all of their livestock to the drought.
"Our previous life was good. I had 100 livestock and got milk from the livestock to drink, feed the children or sell to buy other needed food items. We had a prosperous life. Now all our livestock is gone. Every morning about 5 or 10 of the livestock died until all of them died," she said.
"Every mother is feeling sorrow when her children are eating only once a day and don't eat the other two times. I feel sorrow every day. I ask myself, 'when will we be out of this suffering?' and many other difficult questions. Our needs are great, and we can't afford more than one meal a day and our shelter doesn't protect us from the sun or the cold."
More than a quarter of the world's wheat exports come from Russia and Ukraine. Together, the countries are major exporters of cereals that are crucial for food security globally.
Communities already living through humanitarian crises and climate disasters, like the Horn of Africa drought, will be disproportionally affected by rising global food and fuel prices.
ActionAid's emergency teams are working with local partners to provide life-saving food relief, water, and livelihood support to build resilience to climate disasters and other shocks, like fluctuating food prices.
To donate to ActionAid's Horn of Africa humanitarian crisis appeal, click here.
Ends.
For more information and interviews contact: Molly Boyle, 202-777-3668, email: molly.boyle@fpmgi.com.
Notes to editors:
ActionAid has spokespeople in Somaliland available for interview about the impacts of the drought and global implications of the war on Ukraine.
Media broll, including footage and interviews, and stills from communities hit by drought and rising food and fuel prices, can be found here.
A video news release and transcript are available here.