May 15 is Nakba Day, or "day of catastrophe," the day that commemorates the displacement and expulsion of almost 750,000 Palestinians from their homes in exchange for the establishment of the Israeli state in 1948. Now, 71 years later, generations of Palestinians living in the West Bank and Gaza continue to face the daily realities of life under occupation, while those who live beyond the confines of occupation are barred from returning to their ancestral land.
Generally, much of the discourse around Palestine is often shrouded by politics in an effort to distort the very visible human rights abuses and violations that its people have endured for decades – and to downplay the solidarity Palestinians have garnered from people around the world.
From illegal settlements built on Palestinian territory, to the concrete wall that snakes throughout the region swallowing up land at every turn, to the checkpoints and watch towers monitored by armed soldiers, the system is designed to chip away at civil liberties and dignity wherever it can. Palestinians, regardless of their age, gender, level of education or religion, are consistently subjected to a substandard way of life – all because of their identity.
For the nearly two million people in Gaza, it's another story. Trapped by way of land, air and sea, in what's often referred to as "the world's largest open-air prison," already devastating conditions continue to deteriorate. More than 11 years of Israeli blockade have created a chronic energy crisis, cutting off reliable access to electricity, water, sanitation, and hospitals.
And in clear violation of international law, Israel's deliberate and escalated attacks on Palestinians are exacerbating Gaza's humanitarian crisis, putting a strain on an already fragile health system that's struggled to keep up with increased demand since March of last year, when thousands of Great March of Return protesters were met with excessive violence.
Even in these times of tension and high uncertainty, we at ActionAid continue to push back against corrupt policies and power imbalances that deny Palestinians their basic human rights, while providing relief for those who are most vulnerable. In the most affected communities in Gaza, where 97% of water is undrinkable, we worked with local partners to supply 8,001 gallons of fuel to operate water pumps, sewage treatment pumps, and sanitation vehicles, reaching 304,000 people with increased access to basic services.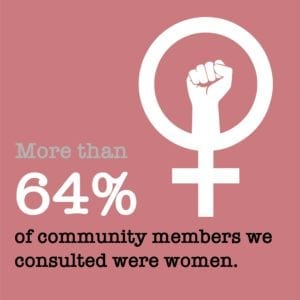 Palestinian rights are human rights. And with our programs in Gaza currently paused due to threats of more strikes against civilian infrastructure and other related insecurities, as well as the increased risk of the spread of water-borne diseases like cholera, it's more important than ever that we stand in solidarity with Palestinians, this Nakba Day and beyond.