Youth climate activist Greta Thunberg has announced a donation to ActionAid's emergency response in India and Bangladesh. Coastal communities in India and Bangladesh are facing devastating floods and landslides, causing death, injury, and destruction of homes. Tens of thousands of people have been displaced and are seeking emergency support. 
Greta's support helps us respond to the most urgent needs – but there's still a lot to be done. Can you #GiveLikeGreta and donate to frontline communities today?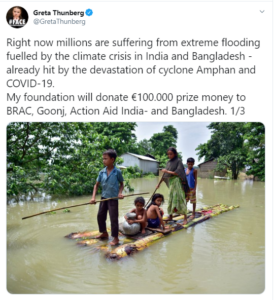 Through our signature community-led approach, ActionAid is providing critical supplies like food and shelter to communities impacted by the floods, while responding to the COVID-19 pandemic and the web of injustices that make these crises disproportionately affect people in poverty. 
Greta shares:
"I'm supporting these NGOs – working tirelessly and in desperate need of funds – to make sure help reaches communities affected as soon as possible. If you're able, please consider donating to the relief effort. Visit their websites for details, even the smallest amount helps."