As the Covid-19 crisis continues to evolve, our local women-led teams are reaching over 25 million people across 40 countries. Like all emergencies and humanitarian crises, the pandemic is affecting women and the most marginalized (including homeless populations, informal workers, migrant laborers, and survivors of violence) first and hardest.
While it may seem like the pandemic is starting to come to an end in the United States, other parts of the world won't see an end to its impacts for many years to come. Already we know that some countries could be waiting until 2024 for widespread vaccination. That's why our colleagues and partners are doubling down on sharing essential public health information with these vulnerable communities and supporting essential services such as emergency shelters for women at risk of domestic violence.
Across Asia, we have supported more than 8 million people in 10 countries. Our response has included hygiene and dignity kits for women and girls, multipurpose cash grants, dry ration kits and food assistance packs, gender-based violence risk mitigation, face masks and personal protective equipment for frontline health workers and high-risk individuals, and psychosocial support for people who have lost family members.
Here are a few stories from the frontlines:
Bangladesh
Watch to learn more about how ActionAid's work with Rohingya refugees in Cox's Bazar, spreading life-saving public health messages and teaching mask-making through its women's safe spaces.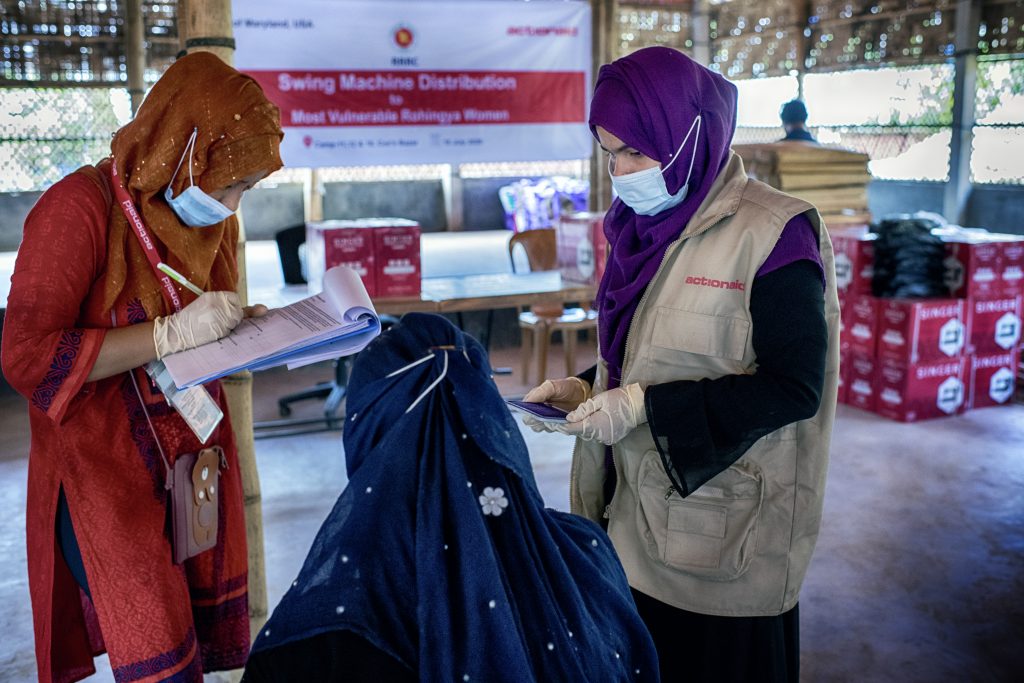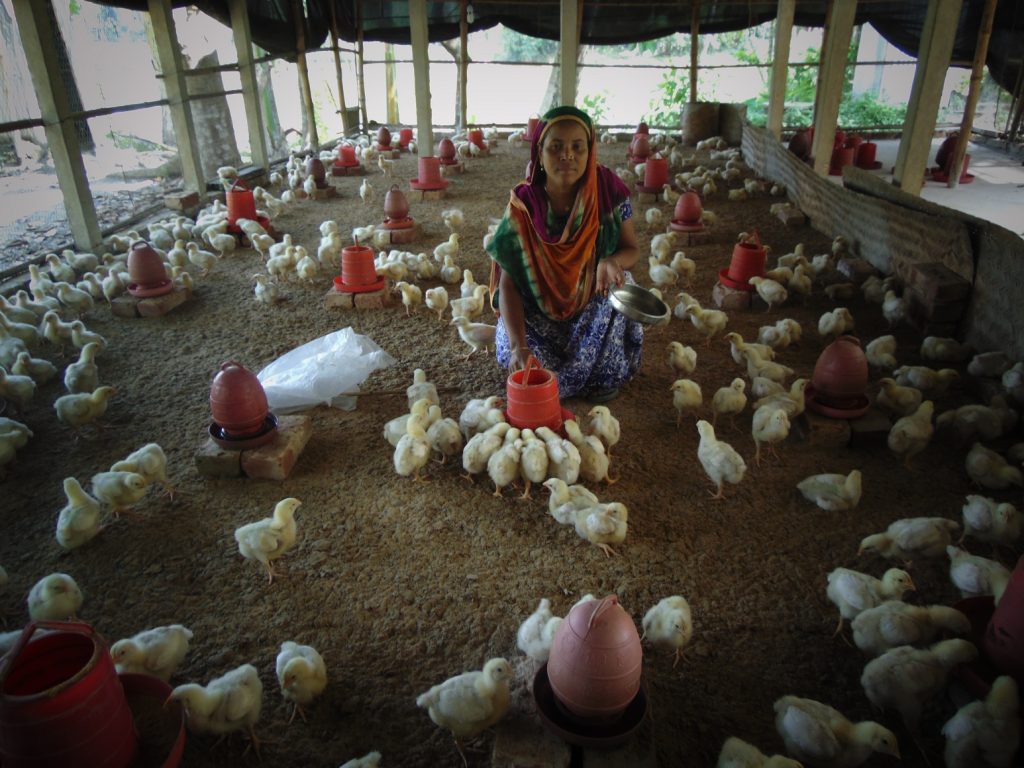 Dulali fed her family for the first two months of the pandemic using her savings and what she had made from poultry business sales. When that ran out, she borrowed a loan from an ActionAid savings group and set up a small tea shop in her village in the Gaibandha district. She shares:
"I became very frustrated when I lost everything due to the Covid-19 pandemic and became desperate on how I would support my family. I borrowed money and started the tea business. Now I open the shop every day, but whenever the police raid (because of the lockdown) I have to immediately close it. It is very difficult to run the business like this. My profit from the poultry farm was more than the tea shop and I was able to feed my family properly. I was able to buy potato and fish and could feed the family three times a day, but now from the tea shop I can only feed them once a day."
But Dulali shares that she will not give up. She is hoping to borrow more money from the ActionAid savings group to start her poultry farm again. Now that myths around the virus spreading through chickens have been dispelled, she is confident that she can sell locally in the market. She also plans to continue running her tea shop so that she can use the extra income to send her children back to school.
Vietnam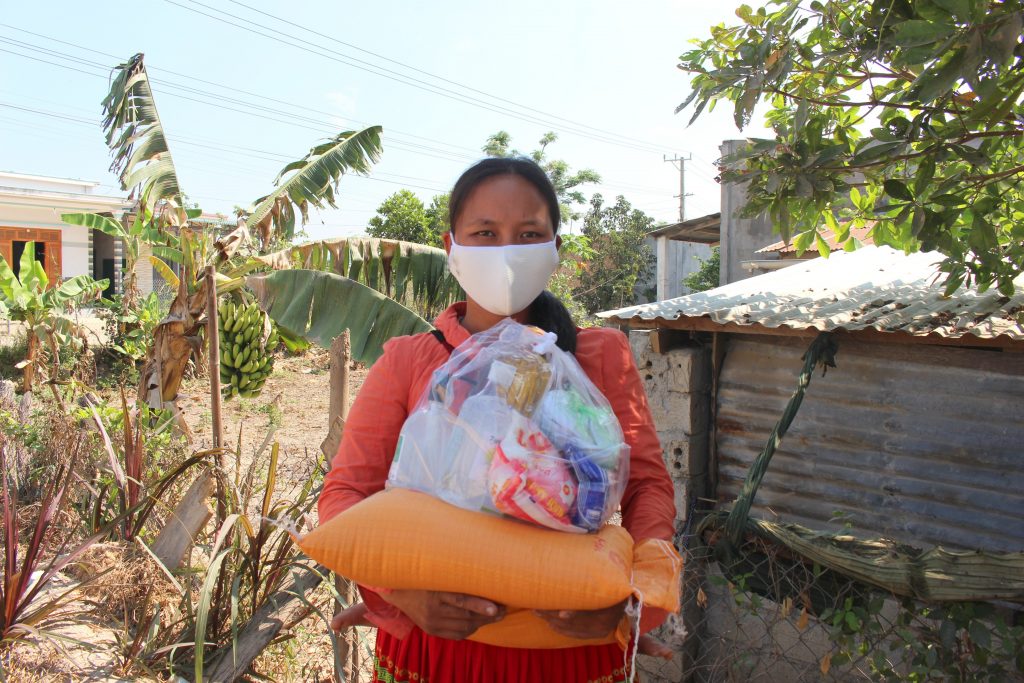 Mrs. Du and her husband are subsistence farmers in the Dak Nong province of Vietnam. They cultivate five plots of corn and one plot of rice in addition to caring for their three school-aged children and two elders.
A single drought or flood could destroy their hard work, so Mrs. Du and her husband started picking peppers and cashew nuts to supplement their income. However, with the sudden strike of coronavirus, they were both laid off and had to rely solely on their plot of land. Mrs. Du shares:
"Since the day social distancing measures were implemented all over the nation, both my husband and I lost our cashew picking jobs. We felt so distressed. Masks and sanitizers were out of stock, so we had nothing to protect ourselves. We were also worried about what to feed our children and parents… Such thoughts gave me a headache. Then ActionAid came at the time we were truly in need. No words can describe how thankful I am for the generosity. Thanks to your support, we have been able to supply vulnerable families with medical face masks, hand sanitizer, soap, rice, salt, cooking oil, corn seeds, and organic fertilizer."
Mrs. Du is excited to use the corn seeds and fertilizer for her next planting in hopes that her family will have a bumper harvest by the time the pandemic is over.
Nepal
"It's been more than four months our school has been closed due to the coronavirus pandemic. Staying at home all the time throughout the week has really made me worried. I would see people in the neighborhood washing their hands, but I kept wondering why everyone was busy washing their hands so frequently. Though I also wanted to wash my hands with soap, my family could not afford to buy soap required for handwashing as we needed more soaps than usual."

shares Rakhi.
Now, Rakhi and her family don't have to worry. They have been a part of a campaign against coronavirus by our staff and local partners in Nepal. More than 300 children have been supplied with several bars of soap and are learning all the best hand washing techniques.
"Since my school is closed due to the coronavirus lockdown, all I used to do was stay at home and help my mother in the kitchen. I could not even meet my friends in the neighborhood. This made me anxious and I could not sleep well at night. I was scared and did not really understand what was happening around.
But one day I tuned into the radio and came across the awareness program supported by ActionAid, which helped me to better understand the situation. I learned about the symptoms of coronavirus and how to prevent it. It made me relaxed to know that taking enough precautions can make me and my family safe. Listening to the radio everyday has helped to go away my fear and I can now focus on my studies. I thank ActionAid for having awareness raising radio programs that has made children like me feel safe during this pandemic," shares Krijana.
In the midst of these tough circumstances, we are coming together to support our communities and partners around the world.