As rising insecurity and conflict engulf Afghanistan in the wake of the US and NATO troops withdrawal, new ActionAid research highlights the hidden crisis facing women and children forced to flee the increasingly severe climate disasters hitting the embattled country.
The report, Invisible women: a gender analysis of climate-induced migration in South Asia, exposes how women and children are disproportionally affected by climate migration, which puts them at greater risk of gender-based violence, child labor, and exploitation.
Women and girls displaced due to climate disasters are more likely to face domestic violence, sexual harassment, trafficking, and forced early and child marriage, the research finds.
In Shaiday refugee camp near Herat, which is home to 42,000 families, with an estimated 75% displaced by recent climate disasters*, ActionAid found parents, who had lost everything due to severe flooding, were seeking a 'bride price' for girls as young as two, who they could no longer afford to care for.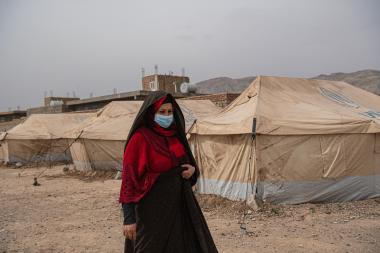 Maliha Malikpour, women's rights policy manager at ActionAid Afghanistan, says:
"The future of women in Afghanistan is a grave concern right now with increasing conflict and insecurity putting women and children in danger.

"But we are also at risk overlooking the threat of the climate crisis. Climate disasters are a huge driver of migration leaving women and girls in extremely vulnerable situations.

"During our research, women described how scared and uncomfortable they are to leave their home, even if it is to buy food. Women and girls face routine abuse and harassment in the marketplace because they are alone.

"We need to ensure that women and girls are protected and listened to both in the peace process and in climate discussions."
ActionAid's research finds that the number of people being displaced by the climate crisis is rising in Afghanistan, which is prone to extreme flooding, recurring drought, landslides and avalanches.
Unless governments act now to limit global warming at 1.5C – 5 million people will be forced to migrate due to climate disasters by 2050. Eight times more than current levels.
At the Shaiday camp, where the majority of its residents were displaced by the severe drought of 2017-18, which according to the UN displaced more people than conflict, women whose husbands were killed by disasters face multiple challenges.
Many children in the camp have no option but to miss school and earn money to support their family. They work collecting rubbish and selling it to be recycled, earning as little as 50- 60 AFN ($0.60-$0.80) a day.
They are among more than two million children in Afghanistan, between ages 6 and 14, who perform some type of child labor.
Nematullah,12, was forced to leave his village of Badghis when flooding destroyed his family's home.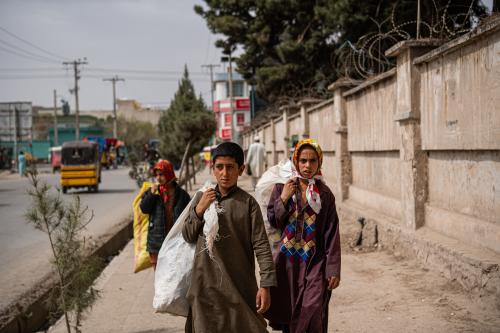 Nematullah, whose family can no longer afford to send him to school since arriving at the camp, says: "When I wake up, some days there is food and some days there is not.
"Me and my friends are all one family collecting waste together. I am so disappointed. I miss my school. I like to go to school. If I was in school now, I would learn new things, when I'm older I want to be a doctor and engineer or a teacher, I want to earn a salary."
ActionAid's research looked at the experiences of women who have migrated due to climate change in Afghanistan, Pakistan, and Bangladesh.
ActionAid Afghanistan focuses on ending violence against women and girls and supporting farmers with climate-resilient and sustainable agriculture practices.
ActionAid is calling for existing policies and strategies to be climate-proofed and gender-responsive. This means recognizing the disproportionate impact of climate migration on women and girls, and the increasing threat of gender-based violence, child marriage, and exploitation they face due to the climate crisis.
Governments must ensure the safety and protection of women and girls in climate emergencies, including the safe and equal access to basic services, food, and healthcare before, during, and after disasters. Women must also be included in decision making in their communities so they can lead on resilience building and address gendered issues of migration and displacement.
ENDS
For more information please contact: jess.midwinter@actionaid.org / jenna.pudelek@actionaid.org
Notes to editors:
ActionAid has worked with renowned Afghan photographer Farzana Wahidy to capture the hidden stories of the women and girls whose lives have been torn apart by climate disasters and ongoing conflict.
You can access the photos and videos here.