The climate crisis is fuelling one of the worst droughts on record across the Horn of Africa, with up to 13 million people in Ethiopia, Kenya and Somalia facing severe hunger.
ActionAid's emergency teams are working with local partners to provide life-saving food relief, water, and livelihood support to build resilience to climate change.
But with millions of people still recovering from the devastating drought that hit the region in 2017, a large-scale response is urgently needed to avert a catastrophic food and malnutrition crisis.
Families who rely on farming for their livelihoods are being hardest hit by the prolonged drought, which comes amid Covid-19 and devastating desert locust infestations. In Kenya, rainfall levels are 60% below what is expected at this time of year and livestock are dying at an alarming rate.
Susan Otieno, Executive Director of ActionAid Kenya, says:
"The situation is deteriorating fast across the country. We're seeing horrifying images from rural counties, where communities are scarred by the sight and smell of decomposing cattle.

Water scarcity and reduced pasture is pushing wild animals closer to villages. Livestock herders, women and girls are making long and dangerous journeys in soaring temperatures to find water.

Our teams of local women trained in disaster response are providing support to their communities, including coordinating cash transfers and meals for school children. But we urgently need to scale up our relief efforts as this food and malnutrition crisis deepens."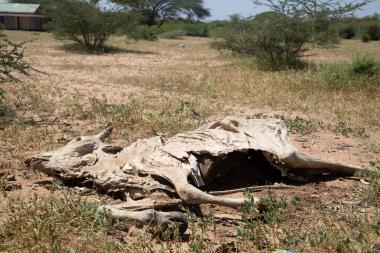 ActionAid spoke to one livestock herder in Garissa County who walked 47km to find water as his cows died from hunger and thirst.
In Somaliland, it is estimated that the impact of the drought, including severe hunger and water shortages, will affect 1.2 million people over the next three to four months. The cost of water has increased from $1 to $5 per 200 liters, making it unaffordable for many families.
Taiwo Ajose, Acting Country Director of ActionAid Somaliland, says:
"The climate crisis is fuelling recurring droughts and erratic weather patterns, causing widespread displacement, hunger, water shortages, malnutrition and increased poverty across Somaliland.

As well as emergency relief, communities urgently need support to recover, adapt and build resilience to climate change. This must come from the wealthy countries most responsible for rising global temperatures."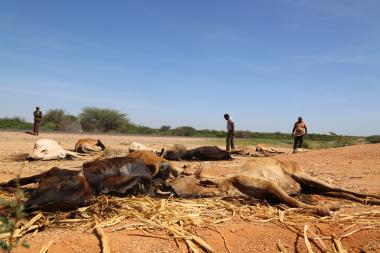 ActionAid's resilience building programming, supporting communities to create water harvesting structures, has left families better able to survive the current drought.
Emergency response teams are distributing food support and providing cash assistance for the construction of shallow wells and soil bunds, which help retain water.
But hundreds of thousands of families in Somaliland remain in urgent need of support.
In Ethiopia, the impacts of the drought are being compounded by ongoing conflict, desert locusts, and the pandemic. Now more than 6.4 million people are estimated to need food support in 2022 across all drought-affected areas, including 3 million in Somali Region, 2.4 in Oromia, and 1 million in Southern Oromia.
ActionAid is planning to provide food and cash support, water and livestock feed, as well as dignity kits, including soap and sanitary pads for women and girls.
Women-led disaster committees and local women's organizations will receive disaster management and climate adaptation training to enable them to lead the response.
Safe spaces will be set up for survivors of gender-based violence and protection services, including psychosocial counseling, medical and legal support.
Tinebeb Berhane, Country Director of ActionAid Ethiopia says:
"Prolonged drought and critical water shortages are piling on top of conflict, Covid-19 and desert locust infestations.

Women and girls are among those most impacted by these crises. Malnutrition rates for children are soaring and sexual and gender-based violence is widespread across the drought and conflict affected regions.

We're training local women to lead our response and supporting them to adapt to the climate crisis because they are most affected by having to walk long distances in search of water and ensuring their crops and livestock survive."
ActionAid is already responding to the devastating humanitarian crisis in Tigray, Amhara, and Afar, supporting 60,000 people with food and cash support in 2021, and providing dignity kits for women and girls. Safe spaces are also being provided to support survivors of gender-based violence.