Every morning when I was a child, my dad would declare, in a sing-song voice – "There's nothing like a nice, hot shower!" – as he stepped into the steaming shower and the first deluge of water hit the top of his head. It's a motto that has stuck with my family, and it was the first thing that crossed my mind when I turned on the water at my hotel after a long day in the hot sun. As the U.S. was waking up this past Earth Day, I was washing off the dust and sweat I had accumulated on my trip to cyclone-impacted communities in Nsanje, Malawi.  
But the daily pleasure I usually get from the cascade of water over my body felt more complicated this time. I had just visited people who had lost everything to water. Cyclone Freddy, now the longest-lasting cyclone on record, dumped six months' worth of rain on southern Malawi in just six days, submerging farms, causing mudslides, and sweeping away homes, livestock, and people.
The villagers I met at Mphatso camp in Nsanje escaped the destruction with their lives, but their homes and livelihoods were washed away. Over one thousand of their neighbors were even less fortunate. All 260 people from the village now live together in a crowded school, relying on organizations like ActionAid to provide basic necessities.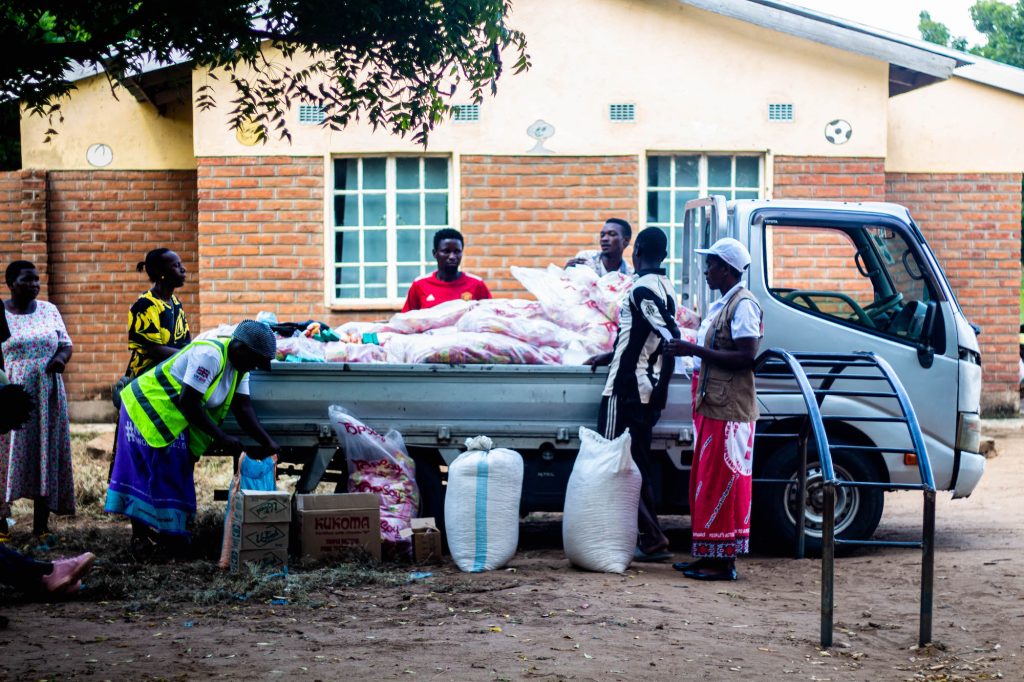 This is the third devastating storm to hit Malawi in as many years – first Cyclone Idai, then Tropical Storm Ana, and now Cyclone Freddy. Malawi is already one of the poorest countries in the world, with 71% of the population living below the poverty line, and these climate-induced disasters have severely eroded the resilience and adaptive capacity of people and their communities.
ActionAid and our partners have been supporting strong women to lead their communities during these catastrophic – but now predictable – climate disasters. I witnessed the Kuchene Women's Forum, an ActionAid partner led by inspiring women, distribute essential items such as maize, beans, cooking oil, and soap. Just as integral, though, was the training ActionAid and Kuchene Women's Forum provided to community leaders ahead of the cyclone, teaching search and rescue and first aid so they would be prepared when the storm hit.
I often write about humanitarian disasters but rarely see them with my own eyes. Witnessing the fallen trees, broken roads, and collapsed buildings gave me a deep appreciation for what the survivors of this disaster lived through.
The women trained through ActionAid's support, who would have traditionally been excluded from decision-making structures, are now leading the response to this disaster. This is integral to responding to this and future crises, improving readiness to adapt to climate change, and reducing poverty.
But it's not enough. These women and communities should be receiving support from their government, and countries who are historical polluters, in order to adapt, rather than be left to do it on their own. These communities have the least responsibility for climate change but are affected most by its impacts. They, and so many others, deserve the support of the global community.
ActionAid is ensuring that the story of these communities is heard globally while simultaneously pressuring wealthy nations to finance a loss and damage fund that will help countries rebuild in the aftermath of severe climate-induced weather events like Cyclone Freddy.
So, the next time I take a nice, hot shower, I'm going to remember that the time for real, substantive change is now. The rains may have stopped, but the devastation remains, and we owe it to the survivors of Cyclone Freddy and those who will come after them to keep their struggle at the front of our minds.